Register below to gain access to the virtual event, as well as industry roundtable sessions you can choose on event days.
Finance, Tax & Audit Expert Exchange
Join us for the first-ever virtual event for the Finance, Tax & Audit Expert Exchange!

September 30 & October 1
12:00PM – 5:00 PM ET

days
hours
minutes
seconds
days
hours
minutes
seconds
This event is FREE for all operators in the industry!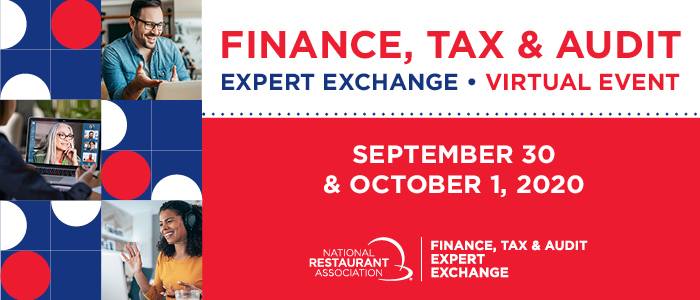 SPECIAL THANKS TO OUR SPONSORS FREQUENTLY ASKED QUESTIONS
National Restaurant Association events are designed specifically for industry professionals who work directly for restaurant, foodservice or hospitality operations, otherwise known as Operators.
We also invite Allied members as well as Allied companies who are not members of the Association to sponsor, support, and participate in our events. Allied companies are defined as industry suppliers, distributors, manufacturers, commodity groups, and other non-restaurant operator companies within the restaurant and foodservice industries.
Consultants. If a restaurant, foodservice or hospitality company outsources all Finance, Tax, or Audit functions/needs, or does not have a Finance, Tax, or Audit person on-staff, we will allow a registration on their behalf, but you must include the name of the company you are representing (please note this is strictly enforced and must be a client you currently represent).
PLEASE NOTE: If you are an Allied member company or with an Allied company who is not a member of the Association, you must sponsor the event in order to attend. For available sponsorship opportunities, please contact partnerships@restaurant.org.
Copyright © 2012-2020 National Restaurant Association. All Rights Reserved.

Do Not Sell My Personal Information
2055 L St. NW, Suite 700 Washington, DC 20036
202-331-5900 | 800-424-5156